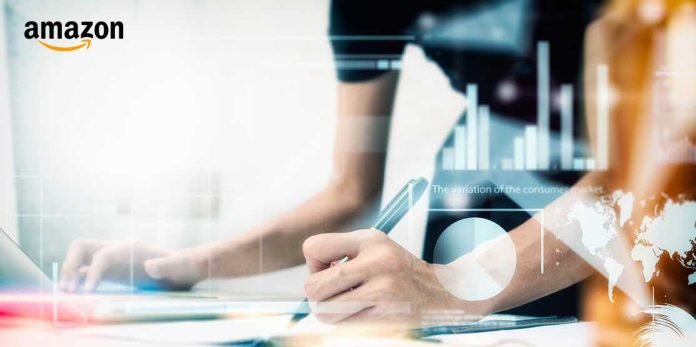 Amazon will invest over $700 million to provide upskilling training programs for one in three of its employees across the U.S. Hrtech
Programs will help Amazonians from all backgrounds access enterprise content management training to move into highly skilled technical and non-technical roles across the company's corporate offices, tech hubs, fulfillment centers, retail stores, and transportation network, or pursue career paths outside of Amazon Hrtech
Based on a review of its workforce and analysis of U.S. hiring, Amazon's fastest growing highly skilled jobs over the last five years include data mapping specialist, data scientist, solutions architect and business analyst, as well as logistics coordinator, process improvement manager and transportation specialist within our customer fulfillment network
Employee upskilling investment builds on Amazon's $15 minimum wage and comprehensive benefits including medical insurance, 401k savings plan, and generous parental leave
Amazon (NASDAQ: AMZN) today pledged to upskill 100,000 of its employees across the United States, dedicating over $700 million to provide people across its corporate offices, tech hubs, fulfillment centers, retail stores, and transportation network with access to training programs that will help them move into more highly skilled roles within or outside of Amazon.
Amazon's Upskilling 2025 pledge invests in a range of new upskilling programs to serve employees from all backgrounds and Amazon locations. Programs include Amazon Technical Academy, which equips non-technical Amazon employees with the essential skills to transition into, and thrive in, software engineering careers; Associate2Tech, which trains fulfillment center associates to move into technical roles regardless of their previous IT experience; Machine Learning University, offering employees with technical backgrounds the opportunity to access machine learning skills via an on-site training program; Amazon Career Choice, a pre-paid tuition program designed to train fulfillment center associates in high-demand occupations of their choice; Amazon Apprenticeship, a Department of Labor certified program that offers paid intensive classroom training and on-the-job apprenticeships with Amazon; and AWS Training and Certification, which provide employees with courses to build practical AWS Cloud knowledge that is essential to operating in a technical field.
"Through our continued investment in local communities in more than 40 states across the country, we have created tens of thousands of jobs in the U.S. in the past year alone," said Beth Galetti, Senior Vice President, HR. "For us, creating these opportunities is just the beginning. While many of our employees want to build their careers here, for others it might be a stepping stone to different aspirations. We think it's important to invest in our employees, and to help them gain new skills and create more professional options for themselves. With this pledge, we're committing to support 100,000 Amazonians in getting the skills to make the next step in their careers."
The upskilling programs are built by Amazonians, around insights provided by Amazon's fast-growing workforce – which will reach 300,000 employees in the U.S. this year – and experts in the changing jobs landscape. Based on a review of the company's jobs and analysis of hiring data from its U.S. workforce, Amazon's fastest growing highly skilled jobs over the last five years are data mapping specialist (832% growth), data scientist (505%), solutions architect (454%), security engineer (229%) and business analyst (160%). Within customer fulfillment, highly skilled roles have increased over 400%, including jobs like logistics coordinator, process improvement manager and transportation specialist within our customer fulfillment network.
According to the U.S. Bureau of Labor Statistics (BLS), there are now more job openings (7.4 million) than there are unemployed Americans (6 million). In looking at job growth over the next decade, the BLS anticipates some of the fastest growing job areas are increasingly in more skilled areas, including medical assistants, statisticians, software developers, nurse practitioners, and wind turbine service technicians. This provides a huge opportunity for individuals who build additional skills to move into better paying jobs. Through its Upskilling 2025 pledge, Amazon is focused on creating pathways to careers in areas that will continue growing in years to come, including healthcare, machine learning, manufacturing, robotics, computer science, cloud computing, and more.
"The future of work is now and the challenge is not just adapting to new technologies, but adapting to the dynamism of the economy, which will only accelerate," said Jason Tyszko, Vice President at the U.S. Chamber of Commerce Foundation. "Amazon is demonstrating the new role employers must play to counter that challenge, fostering a new relationship with workers where maintaining and growing their skills is an imperative for business success."
As part of Upskilling 2025, Amazon is announcing new training opportunities and building on existing programs for employees across the U.S., including:
Launching Amazon Technical Academy, a training and job placement program that equips non-technical Amazon employees with the essential skills to transition into, and thrive in, software engineering careers. Combining instructor-led, project-based learning with real-world application, graduates of the program master the most widely used software engineering practices and tools required to thrive into a career at Amazon. This tuition-free program was created by Amazon software engineers for Amazon employees who want to move into the field. Find out more here.
Launching Associate2Tech, a program that provides fulfillment center associates the opportunity to move into technical roles, regardless of their previous IT experience, within Amazon's vast operations network. This fully-paid 90 day program is designed to place associates in on-the-job training for IT support technician roles and pays for their A+ Certification test, a widely recognized certification. No existing degree is needed, and participants have paid study time during their work week. Learn more here

.

Launching Machine Learning University (MLU), an initiative that helps Amazonians with a background in technology and coding gain skills in Machine Learning. As machine learning plays an increasingly important role in customer innovation, MLU helps employees learn core skills to propel their career growth – skills that are often taught only in higher education. Divided into six-week modules, the program requires only half to one full day of participation a week. MLU is taught by more than 400 Amazon Machine Learning scientists who are passionate about furthering skills in the field. Originally launched as a small cohort, the program is on course to train thousands of employees.
Growing Career Choice, Amazon's pre-paid tuition program for fulfillment center associates looking to move into high-demand occupations. Amazon will pay up to 95% of tuition and fees towards a certificate or diploma in qualified fields of study, leading to in-demand jobs. Since launching Career Choice in 2012, over 25,000 Amazonians have received training for high-demand occupations including aircraft mechanics, computer-aided design, machine tool technologies, medical lab technologies, and nursing. The company is investing in expanding the program by building additional classrooms in its fulfillment centers globally, and expects to have over 60 on-site classrooms by the end of 2020.
Expanding Amazon Apprenticeship, a Department of Labor certified program that offers paid intensive classroom training and on-the-job apprenticeships with Amazon. Providing a combination of immersive learning and on-the-job training, the Amazon Apprenticeship program has already created paths to technical jobs for hundreds of candidates working to break into careers including cloud support associate, data technician and software development engineer.
Expanding AWS Training and Certification to close the cloud skills gap in the industry. Amazon employees have access to free classroom and digital training to build cloud knowledge, and discounted AWS Certification exams to validate cloud expertise. Cultivating these in-demand skills opens opportunities both within Amazon and in organizations around the world as demand for cloud talent continues to grow.
This pledge furthers Amazon's commitment to supporting its employees. Last year, Amazon raised its minimum wage to $15 for all U.S. employees, adding to the suite of industry-leading benefits offered by the company, including comprehensive healthcare (medical, dental and vision coverage), up to 20 weeks of paid parental leave, 401(k) matching, and more. To learn more about Amazon's upskilling efforts visit www.aboutamazon.com/upskilling.
With more than 630,000 employees worldwide, Amazon has been recognized on LinkedIn's Top Companies list for the past four years, ranked #2 in the Fortune 2017 and 2018 World's Most Admired Companies, and ranked #5 in Fast Company's 2018 World's Most Innovative Companies. The company also receives a perfect score from the Human Rights Campaign Corporate Equality Index.