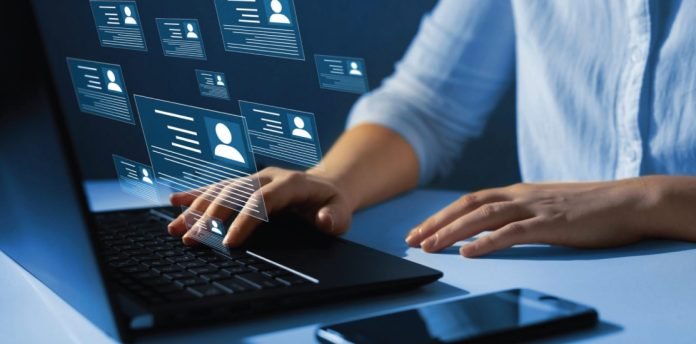 As work evolves to accommodate in-office, hybrid, and completely remote employees, HR leaders are increasingly relying on technology to bridge the gaps of communication, efficiency, and productivity. With just a few simple technology tools, employers can maximize workplace productivity, no matter where employees are located. 
Laptop Docking Stations or Hubs
The benefits of a laptop docking station are significant, offering multi-monitor support and a way to keep a clean, organized workspace, two things that studies show increase productivity.
It's estimated that multiple monitors increase productivity by 42%, and products like the CA Essential Universal Docking Station DS-6000 and CA Essential Laptop Docking Station DS-1000, are cost-effective solutions that enable dual or triple displays. Models from other brands are available to enable up to four monitors at a time. A multi-monitor setup can reduce task switching, a known productivity sink, because employees can see more of their work at a time, allowing for easy management of email inboxes, chats like Slack or Teams, online meetings from Zoom or Google Meet, and so much more. For an even greater productivity boost, configure one monitor in portrait mode to reduce scrolling. 
Another key benefit to laptop docking stations is the ability to keep a clean, organized workspace by having all peripherals connected to one central device. This setup is especially useful for hybrid employees who may come to the office a couple of days a week and share desk spaces with others. A laptop docking station creates a seamless way for each employee to arrive, plug in their laptop via a single cable, and have all other needed peripherals ready for use.
A Webcam That Solves Modern Meeting Challenges
Virtual communication is here to stay, and new webcams are getting modern upgrades, such as the adjustable CA Essential Webcam Flex. This webcam is designed to solve modern meeting challenges by sitting in the center of your monitor so you can both make eye contact AND see your colleagues at the same time. A webcam that more easily facilitates eye contact is the ideal tool to give powerful presentations, conduct authentic live interviews, lead captivating webinars and livestreams, or present engaging demonstrations via a simple, unobtrusive webcam that's perfect for people spanning industries, professions, interests, and hobbies, as its unique design offers a more collaborative experience for any use.
In addition to facilitating natural eye contact for a more connected experience, the Webcam Flex also offers another completely unique feature called Table View, that turns any desk into an overhead projector. This mode allows for a clear view to share documents or objects, creating a more collaborative experience that enables teans to work together more seamlessly.
A Dedicated Speakerphone
Nearly everyone has experienced meeting fatigue, be it from the quantity of meetings to the length of time spent in them. With many professionals averaging over 20 hours a week in meetings, having options for connecting to those discussions provides a needed respite from headphones or earphones, while delivering a significant audio upgrade to onboard webcam microphones.
There are many dedicated speakerphone options depending on individual desk and office configurations. Options include portable devices that enable clear, hands-free communication on the go, making them perfect for frequent travelers. Other models accommodate large conference rooms with many meeting participants, and there are also more unique options, such as monitor-mounted speaker bars, which are ideal for small desks or minimalist setups because they clip to most monitors, for a space-saving audio upgrade that ensures high-quality audio for every meeting.
Headsets With Two Types of Noise-Cancelation Create a Focused Work Environment
For times when a dedicated speakerphone is not an option for meetings, a comfortable, reliable headset makes all the difference. Headsets, particularly those with noise-canceling technology, help eliminate distractions and enable a more focused work environment. The volume of choices for headsets presents a dizzying area of tech specs and subjective opinions, as everyone hears differently and has a different idea of what's comfortable. 
Look for a headset with two types of noise-canceling technology as it will provide high-quality audio for both speaking and listening. Environmental Noise Cancelation (ENC) minimizes background noise so useres sound clearer to those they are speaking with. Active Noise Cancelation (ANC) reduces low-frequency sounds like air conditioners and other background noise so users more clearly hear their calls or music. For users that experience what The New York Times has labeled "eardrum suck," consider an on-ear model, which may reduce the discomfort some listeners experience when using ANC technology in over-the-ear headphones. This can include eardrum pain, headaches, dizziness, or nausea, which in many cases is alleviated when using an on-ear headset compared to an over-the-ear headset with ANC technology. 
No matter the office setup, there are modern technology solutions that exponentially increase productivity. With just a few simple upgrades, workers in any industry, from any location can achieve better organization and communication.
Discover the full potential of your Hrtech strategy with our comprehensive Hrtech News and Hrtech Interviews.
Want to Contribute? CLICK HERE To Submit Your Guest Post and Join Our Community of Writers!!!
ABOUT THE AUTHOR
Susie Hayne

Director of marketing at Cyber Acoustics
Susie Hayne is director of marketing at Cyber Acoustics, a leading manufacturer of reliable and affordable computer peripherals used in schools, businesses, and homes. She has two decades of experience telling stories for brands in the consumer, B2B, and healthcare industries, representing companies including Creative, Plex, Eko, RSA Security, Internet Security Systems (acquired by IBM), and more. Susie loves cooking, going to the beach, and spending time with her family.